ALUMA® TRAILERS
Grenada Bad Boys is YOUR local Aluma dealer!
Get on the road to adventure quickly and dependably with an Aluma trailer!
Aluma trailers are all aluminum welded construction – no rust! Aluminum trailers are lighter, as strong as, and more durable than steel. Come into Grenada Bad Boys today to check out new Aluma trailers for sale.
ALUMA ES
7800TA ESA - TANDEM AXLE ALUMINUM DECK
25th ANNIVERSARY TRAILERS
SINGLE AXLE UTILITY TRAILERS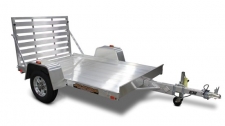 SINGLE HEAVY AXLE UTILITY TRAILERS
TANDEM AXLE UTILITY TRAILERS
1020 14K SUPER HEAVY OVER SERIES
ENCLOSED SINGLE AXLE TRAILERS
ENCLOSED SINGLE AXLE SPORT TRAILERS
ENCLOSED TANDEM AXLE TRAILERS
ENCLOSED TANDEM AXLE SPORT TRAILERS
ENCLOSED TANDEM AXLE CAR TRAILERS